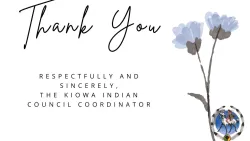 I would like to take a moment to thank all the K.I.C members who were in attendance at the annual meeting this past Saturday, April 1, 2023.
Thank you to Executive Director Lindy Waters, KCOA Director Richard McMahon, District 2 Legislator Michael Primus, Chief Justice Eldridge Onco, Chairman Lawrence SpottedBird and Vice Chairman Jacob Tsotigh who provided their yearly reports to our Citizens. Thank you Kiowa Casino in Devol who donated the raffle items! Thank you to the I.T. department who set up the live feed so our Kiowa Citizens who were unable to attend could view the meeting. Thank you to the P. R. team who attended. Thank you to Maintenance for setting up and tearing down the tables and chairs for the meeting and thank you AOA for providing the meals and drinks. Much appreciation for all the volunteers who helped out at the meeting. I could not have done this without you all.
I am grateful to my family and friends who came to show support.
Thank you to my children and grandchildren for helping serve food and being there to support me!
The meeting was recessed due to quorum difficulties which are being worked on.
We will resume the meeting on July 15th, 2023.
Thank you again for all the effort put into making the annual meeting as positive as possible despite the difficulties.
Respectfully and Sincerely,
The Kiowa Indian Council coordinator