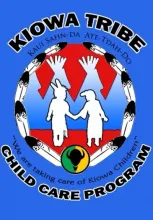 Contact Info
Location
PO Box 369
Carnegie, OK 73015
United States
Mailing Address
PO Box 369
Carnegie, OK 73015
United States
Phone
Director
Update: November 2022 -The Kiowa Child Care Program is open and providing childcare for our families. We are taking all precautionary measures in providing childcare services during the COVID Pandemic.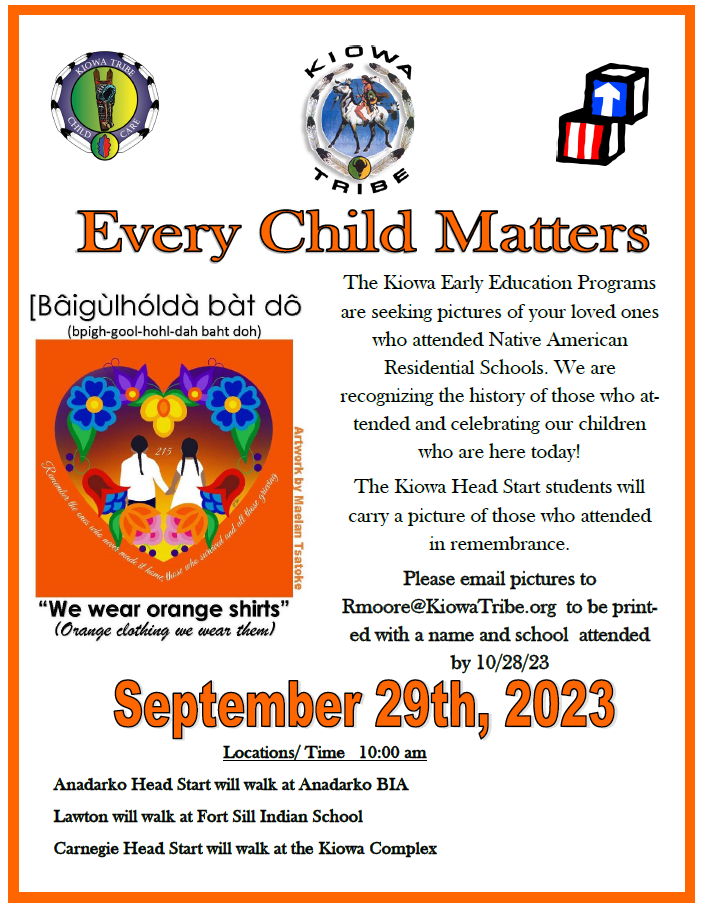 The Child Care Assistance Program is funded by a federal grant through the Department of Health & Human Services and Administration for Children & Families. Certain requirements of the Child Care Program are necessary because of the federal regulations of the funding source. None of the funds used for day care assistance are tribal monies.
The purpose of the Child Care Assistance Program is to increase the availability, affordability, and quality of childcare services in the 22 counties of Southwestern Oklahoma.  The following 22 counties are: Beckham, Blaine, Caddo, Canadian, Carter, Cleveland, Comanche, Cotton, Custer, Garvin, Grady, Greer, Harmon, Jackson, Jefferson, Kiowa, McClain, Oklahoma, Roger Mills, Stephens, Tillman, and Washita.
Services

We provide assistance to Kiowa children under 13 years of age. Federal funding is applied for annually by the Kiowa Tribe in order to continue to:

· Provide low-income families with the financial resources to find and afford quality child care for their children, while working, attending training or educational activities.

· Enhance the quality and increase the supply of child care for families;

· Provide parents with a broad range of options in addressing their child care needs;

· Strengthen the role of the family;

· Improve the quality of and coordination among child care programs and early child development programs;

· Increase the availability of early childhood development and before and after school care programs.

· Engage children in learning the Kiowa language and culture.

Eligibility

 The child must be under the age of 13 years,and will become ineligible on their 13th birthday.
The child must be enrolled member of the Kiowa Tribe; eligible to be enrolled Kiowa; or have at least one enrolled Kiowa parent; or a Kiowa enrolled child who resides with an Indian family, or attached to an Indian family by birth, adoption, custody or guardianship with appropriate documentation.
Child must reside within the 22 counties of Southwestern Oklahoma.
Complete a Child Care Application and submit all required documents before eligibility will be determined and approved.
Must meet income guidelines based on family size and income. See the sliding fee scale.
Both parents must be working, in training, or attending an educational program which prevents parents from providing care and supervision of the child in the household during the time the parents are participating in those activities.

· Must NOT be currently receiving childcare services from DHS or other tribal subsidy programs.

Application Process

Families must first complete an application for Child Care Assistance so that eligibility may be determined. Applications are fillable and may be completed on-line (see below) or picked up at the Kiowa Child Care Center in Anadarko.

The following documents must be included with the application:

Denial Letter from Oklahoma DHS in your county for 1st time applicants.
Copies of Kiowa Tribal Enrollment Verification and/or CDIB (Certificate Degree of Indian Blood) for parents and children.
Copies of parent and child's Social Security Card or number.
Copies of the child's Immunization Record.
Copies of the Child's Birth Certificate (or hospital verification for whom the assistance is being requested for.
Income verification and one month's (2 recent check stub) from each working parent.
Current Class Schedule (if applicable);
Utility Bill (electric, gas, water, telephone, cable). If living at someone else's residence, provide a statement from that person stating you reside with them and submit their utility bill.