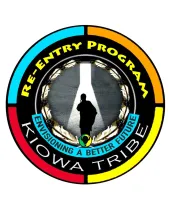 Contact Info
Location
100 Kiowa Way
Carnegie, OK 73015
United States
Mailing Address
100 Kiowa Way
Carnegie, OK 73015
United States
Phone
Director
Staff
Purpose
The Re-Entry Program is dedicated to educating offenders, Families and communities while collaborating with federal, tribal, state, and county officials, identifying opportunities while eliminating gaps in criminal justice reform. The Purpose of the organization is to inform American Indian offenders of their rights, roles, and responsibilities, and as a result, become active participants in their own cases will allow them to understand what is happening to them while in the criminal justice system, as well as how to better their situation by improving their lives for themselves and their family members.
Goals
Our goal for Kiowa Re-Entry program is to achieve (5) major priorities for American Indian families.
Relieve the heavy financial burden from tribal families, as well as the state and tribal communities.
Decrease the overall crime rate within our tribal communities, while keeping Kiowa families together.
Decreasing the recidivism rate among American Indians, ending the cycle of trauma.
For the first time in history, attain data from behind prison walls on enrolled Oklahoma American Indians incarcerated and the tribal nations they represent.
Inter-tribal focus awareness of Post Incarceration Syndrome and the traumatic multi-generational effects crippling American Indian Families.