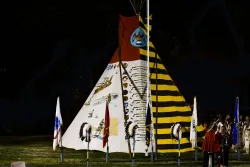 KIOWA BLACK LEGGINGS WARRIOR SOCIETY CEREMONIAL WEEKEND HIGHLIGHTS: October 7 & 8
Highlights include New Member Induction; O-Ho-Mah Lodge Dancing; Encountering the Enemy Dance
ANADARKO, OKLAHOMA (October 5, 2023) —This weekend, the much-anticipated Kiowa Black Leggings Warrior Society, or Ton Kon Gau in Kiowa, ceremonial will take place on Saturday, October 7 and Sunday, October 8, 2023 at Indian City, located south of Anadarko. On both days, there will be a meal at 12:00 p.m. followed by the start of the ceremonial at 2:00 p.m. The public is invited to enjoy the noon meal with the families of Kiowa warriors and observe the ceremonial in the outdoor arena.
Saturday, October 7, 2023
On Saturday afternoon Hospital Corpsman 3rd Class John Curtis Campbell, US Navy and US Navy Reserve, will be initiated into the revered society. Campbell was born at Lawton Indian Hospital and grew up around the "Caddo Road" and Redstone area.  He is the son of the late Mary Frances Kodaseet Carter, a proud member of the Kiowa War Mothers and the 1962 Kiowa Princess, and William Campbell, a respected member of the Wichita Tribe. His Kiowa grandparents are the late Frank and Lilly Nina Botone Kodaseet.
After graduating from Anadarko High School, John followed in his uncles' footsteps and chose military service. He enlisted in the US Navy in 1988 and was on active duty for 10 years. After he was honorably discharged, he served three more years in the US Navy Reserve.
John Curtis Campbell, U.S. Navy (1988-1998), U.S. Navy Reserve (1998-2001)
After completing Basic Training at Recruit Training Command, Naval Training Center, Great Lakes, Illinois, John reported to Great Lakes Naval Hospital where he received the Hospital Corpsman rating.
Later that year, John reported to his first duty station, Long Beach Naval Hospital. While serving at the Branch Clinic, he became an optician apprentice. John applied and was accepted to the Naval Ophthalmic Support and Training Activity (NOSTRA) at Naval Weapons Stations, Yorktown, Virginia where he trained to become an optician.  
As the Department of Defense's premiere manufacturing facility for optical fabrication, NOSTRA sets the standard for military medicine in the optical community. While completing his training to become an optician, John helped NOSTRA meet unprecedented demands for highly specialized ophthalmic equipment and eyewear during Operation Desert Shield and Desert Storm. He was awarded the National Defense Service Medal in 1990.
After completing Navy Optician "C" School, John received orders to Yokosuka, Japan. Soon after, he was promoted to Hospital Corpsman 3rd Class, serving as an optician and Nationally Registered Emergency Medical Technician (NREMT) at the US Naval Hospital Yokosuka. 
In 1993 John received orders back to (NOSTRA) Yorktown, Virginia where he served as a certified optician providing optical services along with NREMT services for the Navy. John was married in 1996 and became a father when his daughter Nina Chenoa Campbell was born in 1997. A few years later, in 2001, his son Nakai Nawat Campbell was born.
John and his wife Lori Quetone reside in Norman, Oklahoma where he has been employed with the Chickasaw Nation since 2005. Following his induction to the Kiowa Black Leggings Warrior Society, John will receive the Kiowa name "Taime-day" in honor of his maternal grandfather Frank Kodaseet.
Sunday, October 8, 2023
Sunday's activities will begin with a community meal at 12:00 p.m.; the ceremony will begin at 2:00 p.m.
Encountering the Enemy Dance
Later in the afternoon, the last and perhaps most symbolic and historical of the Society's dances will take place. The Turn Around or Reverse Dance, known in Kiowa as "Xakoigacunga" portrays the story of counterattack and is also known as the Encountering the Enemy Dance.
During the Turn Around Dance, Commander Lyndreth "Tugger" Palmer (Paujoqi, U.S.N.) will separate from the group and go to the center of the arena. He will place a long hide sash over his head and shoulder. After he stakes it down to the arena floor with his own lance, he will begin dancing with the Society pawbon, a lance or spear curved over at the top that is adorned with otter skin, eagle feathers and beads.
As the Commander dances, he'll keep pace with the increasingly feverish tempo, creating an irresistible, spirited energy that overtakes the crowd and other Society members. The spectacular ritual continues until another member takes the lance and places it on the drum to stop the song. The startling silence is broken when the member shares a personal story about a harrowing encounter with the enemy.
On Sunday evening, the O-Ho-Mah Lodge will conduct a program of war and social dancing. The public is invited to enjoy the society's historic songs and dances, and observe the time-honored traditions of the Kiowa Black Leggings Warrior Society.
Kiowa Black Leggings Officers
The current officers of the Kiowa Black Leggings Warrior Society are: Lyndreth "Tugger" Palmer, Commander, USN, Paujoqi; Blas Preciado, Vice Commander, USMC, Paujoqi; Darwin Palmer, USA, Treasurer, Ahdlejoqi; Goldie Kaulaity, First Vice Commander, USA; Patrick Tsotigh, Second Vice Commander & Chaplain, USA/OKANG; Randall Jake, Public Information Officer, USMC & USA; Robert G. Short, Sergeant at Arms/Assistant Chaplain, USMC.
Kiowa Black Leggings Ladies Auxiliary Officers
The current officers of the Kiowa Black Leggings Ladies Auxiliary are: Val Tate, President; Mary Pinezaddlebe Zumwalt, Vice President; Glenda Palmer, Treasurer; and Gloria Tate, Secretary.