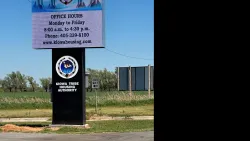 Today April 12, 2023 the Kiowa Tribe Housing Authority held their first special meeting under Executive Director, Luke Toyebo, Jr. In attendance were the three newly appointed Kiowa Housing Board Commissioners, Katherine Ware-Perosi, Karen Cash-Onco, Kay Mopope, Chairman Lawrence SpottedBird, Vice-Chairman Tsotigh, Executive Director Lindy B. Waters along with Legislators, KIC Coordinator and Kiowa Citizens. 
Executive Director, Luke Toyebo Jr. and the Housing Commissioners read and approved six resolutions. These resolutions will allow for the Housing Authority to establish new deposit accounts with the First State Bank in Anadarko so they may transfer funds from old accounts the previous housing administration utilized. Once they receive final approval and the funds are moved into their appropriate accounts, they will be able to assist the Kiowa Citizens. The reason for the new bank accounts is due to the past administration leaving and the previous institution no longer wanting to conduct business. 
Mr. Toyebo Jr. has great plans to revitalize the communication and relationship between housing and the Executive and Legislative Branches. Patience is requested from the Kiowa Citizens as it will take time to get the Housing Authority back to where it needs to be. They are currently hiring to fill vacant positions and if you are interested, please visit the careers page. 
If you have further questions, please call Kiowa Housing Authority at 405-339-8100.