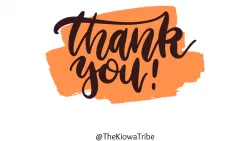 I would like to express a large 'Aho' to everyone that helped make the Kiowa Indian Council (KIC) Special Meeting a success this past Saturday, January 21, 2023.
I greatly appreciate all the volunteers who helped me set up the tables and prepare the raffle items. The gentlemen for setting up the tables and helping me unload my vehicle. The sweet couple who handed out t-shirts for the first 50 registered Kiowa Citizens. And a major 'thank you' to everyone that stayed and helped with the clean-up afterwards.
I also wish to thank the Kiowa program directors who spoke and provided more information about their program. And to Nick Hutchins, the bus driver, for providing rides to our Citizens to attend the meeting. We very much appreciate all of you.
'Aho' to the Kiowa Election Commission and the drum and singers; also to the AOA (Administration of Aging) for preparing breakfast and lunch. They prepared 200 breakfast boxes and 289 box lunches for everyone!
Special thanks to Burnett, who mentioned the help that the KIC Coordinator needs. My phone has stayed busy since the meeting with people expressing their desire to help! I thank all of those who encourage and support me. The kind words exchanged and those who just wanted to give me a hug after the meeting. I so greatly appreciate all of you.
Last but not least, a big shout out to all our Kiowa Citizens who attended the meeting. I thank those who voiced their concerns and shared their ideas. My apologies if I forgot something or forgot anyone. I truly appreciate all the help given to me at the meeting.
Sincerely,
Kristi Wolf-Norris
KIC Coordinator