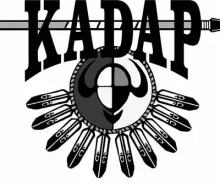 Contact Info
Location
208 Hardee St
West
Anadarko, OK 73005
United States
Mailing Address
208 Hardee St
West
Anadarko, OK 73005
United States
Phone
Fax
Email
Director
Staff
*988 Suicide and Crisis Helpline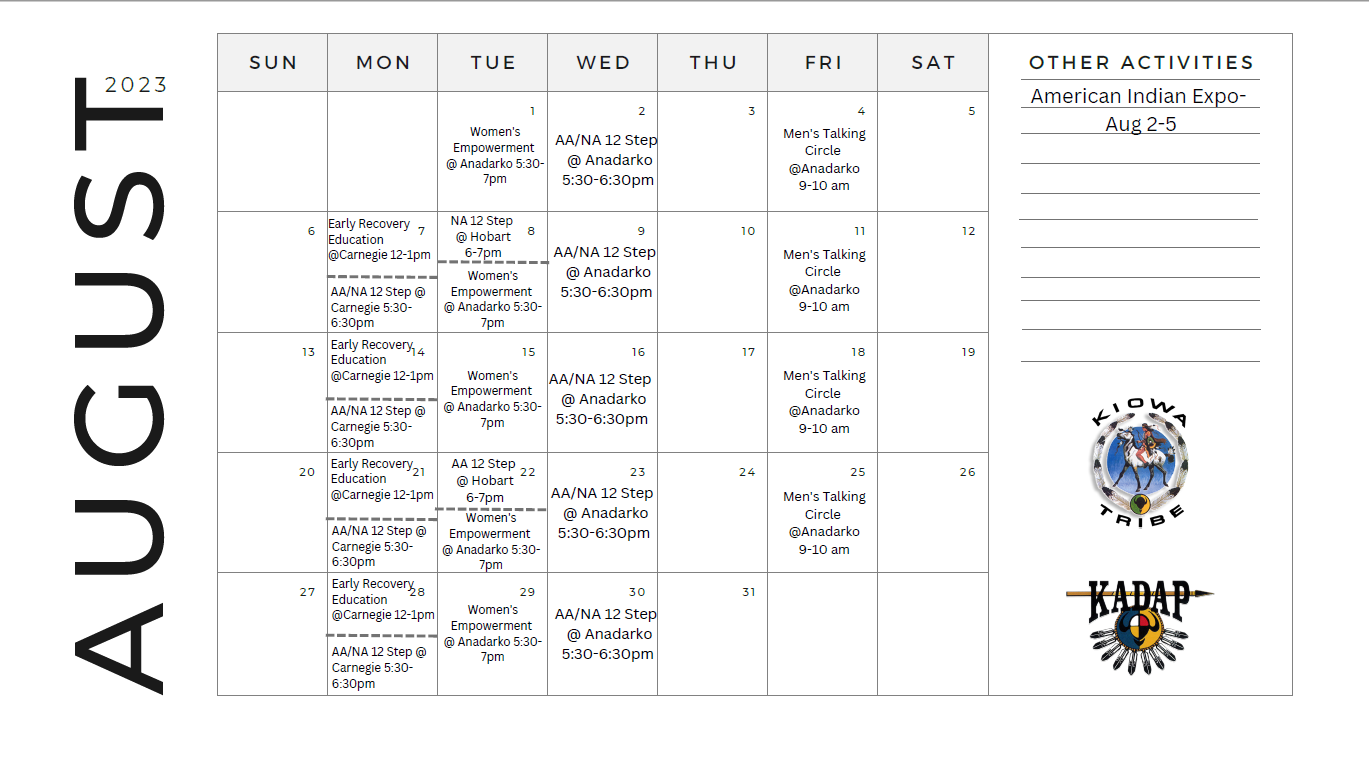 Kiowa Alcohol and Drug Abuse Program (KADAP) Resource Information 
Kiowa Alcohol & Drug Program BHS is committed to providing high quality, technology driven, evidenced and culturally based practices so all Kiowas will achieve better health and wellness. 
Medicaid Expansion are you eligible (MATE)? https://oklahoma.gov/ohca/about/medicaid-expansion/expansion.html
Please read, complete, and sign forms under documents to receive services. 
Our office hours are Monday through Friday, 8:00 a.m. to 4:30 p.m.
Eligibility

No age limit;
Must be an enrolled member of the Kiowa Tribe or other Federally Recognized Tribe;
Must reside within the 10-county service area;
Must have a substance abuse problem or know someone who needs help.

 

Adult Outpatient Services

    Individual Therapy
    Group Therapy
    Family Therapy
    Case Management
    Recovery Support Services
 

Substance Abuse Services

Medicated Assisted Treatment (coming soon)
Tribal Opioid Response will provide education, prevention, and treatment (TOR)

TOR grant: The Tribal Opioid Response grant serves Kiowas and other Federally Recognized tribes that are in need of Opioid and/or Stimulant Use Disorder prevention and/or treatment. 

Residential Treatment (referrals/ARPA)
KADAP will continue to outsource residential/in-patient treatment for Substance Use Disorders, Mental Health Disorders, and Court Orders.

KADAP/ARPA/Covid: These funds will service Kiowas located in the 10-county area with Substance Use Disorders and/or co-occurring mental health disorders for prevention/treatment such as outpatient and/or residential (in-patient) treatment

Mental Health/Co-occurring

Trauma Informed Care
Addictions
Co-occurring  

Resources

Resource Hotlines

Reach Out Hotline
1‐800‐822‐9054

2-1-1 Oklahoma Helpline
211

Oklahoma Tobacco Helpline
1‐800‐QUIT NOW

Behavioral Health Resources
Red Rock BHS Crisis Line
405‐987‐ROCK (7625)

Trevor Project Lifeline
866-488-7386

National Suicide Prevention Lifeline
1-800-273-TALK(8255)
Spanish – 1-888-628-9454
Deaf/Hard of Hearing – 1-800-799-4889

SAMHSA's National Helpline
1-800-662-HELP(4357)

OCARTA's Friend Line
405-436-4083

NAMI Oklahoma Helpline
1-800-583-1264
 

 

Resources for Victims Services

Statewide Elder & Child Abuse/Neglect Hotline
1-800-522-3511

Oklahoma State Safeline
1-800-522-SAFE(7233)

YWCA Domestic Violence Hotline
405-917-9922

YWCA Sexual Assault Hotline
405-943-7273

Resources for Veterans

National Women Veterans Hotline
1-855-VA-Women (1-855-829-6636)

Oklahoma Lawyers for America's Heroes
405-416-7000

Oklahoma VA Health Care System
921 N.E. 13th St, Oklahoma City, OK 73104    405-456-1000

Resources for Youths

National Teen Dating Abuse Helpline (Love is Respect)
1-866-331-9474

LGBTQ+ National Youth Talkline
1-800-246-PRIDE(7743)

SISU Youth Service (Shelter & Care for Homeless Youth)
3131 N. Pennsylvania Ave, Oklahoma City, OK 73112    405-459-7478

Stop Bullying
Resource for bullying & cyberbullying prevention    

Food & Shelter Resources

WestTown Homeless Resource Campus
1729 N.W. 3rd St, Oklahoma City, OK 73106    405-415-8500

Grace Rescue Mission (Men Only)
405-232-5756

City Rescue Mission

Women & Children's Entrance: 800 W. California Ave, Oklahoma City, OK 73106
Men's Entrance: 914 W. California Ave, Oklahoma City, OK 73106    405-232-2709

Salvation Army
1001 N. Pennsylvania Ave, Oklahoma City, OK 73107    405-246-1133

Jesus House
1335 W. Sheridan Ave, Oklahoma City, OK 73106    405-232-7164

Lottie House
1311 N. Lottie Ave, Oklahoma City, OK 73117    405-600-3074

Skyline Urban Ministry
500 S.E. 15th St, Oklahoma City, OK 73129    405-632-2644

First Baptist Church (Chickasha)
324 W. Colorado Ave, Chickasha, OK 73018    405-224-5196

Mid-Del Food Pantry
322 N. Midwest Blvd, Midwest City, OK 73110    405-732-3603

Action Associates
10651 Hwy 183, Clinton, OK 73096    580-323-2604

Mission House
300 S. 7th St, Clinton OK, 73601    580-323-6820

Hope Is Alive
1-844-3-HOPE-NOW

Opportunities Inc. Community Resource Center

Main Office: 177 W. Russworm PO Box 569, Watonga, OK 73772
Clinton Office: 2250 W. Modell, Clinton OK 73601
Woodward Office: 1007 Main St, Woodward, OK 73801
Guymon Office: 306 NE 4th St, Guymon, OK 73942    Main Office: 580-623-7283

Weatherford Food & Resource Center
122 S. 8th St, PO Box 362, Weatherford, OK 73096    580-774-5377

Legal Resources

Legal Aid Services of Oklahoma, Inc.
3800 N. Classen Blvd, Suite 230, Oklahoma City, OK 73118    1-888-534-5243

Immigration Legal Services (Catholic Charities)
1232 N. Classen Blvd, Oklahoma City, OK 73106    405-523-3001

Neighbor for Neighbor Legal Clinic
1506 E. 46th St North, Tulsa, OK 74126    918-425-5595

Transportation Resources

SoonerRide
Monday through Saturday from
7AM-6PM    1-877-404-4500
TDD – 1-800-722-0353

Red River Transportation
Weatherford Office: 580-772-1400

Health Clinics

Healing Hands Health Care Services
411 N.W. 11th St, Oklahoma City, OK 73103    405-272-0476

Clinton Free Clinic at First United Methodist Church
1001 Frisco Ave, Clinton, OK 73601
(2nd & 4th Thursday of Each Month)    580-323-3179

Agape Medical Clinic
912 W. Main St, Weatherford, OK 73096
(2nd & 4th Thursday of Each Month)