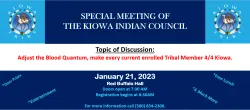 Sat, Jan 21, 2023 7:00am - Sat, Jan 21, 2023 7:00pm
Should every current enrolled Tribal Member become registered as a Full-Blooded Kiowa?
Kiowa District 1 Legislator, Kyle Attaddlety, has collected enough signatures to begin the process of placing this idea into motion with a petition. The Kiowa Election Commission recently verified the signatures and notified the KIC (Kiowa Indian Council) Coordinator, Kristi Wolf-Norris.
The concern of Tribal Membership has been a topic of discussion for years. Rather the Kiowa Tribe decides to lower the required blood quantum, or make each enrolled member a full blood, will be the debate at the upcoming Special KIC Meeting scheduled for December 10, 2022, at Red Buffalo Hall in Carnegie, Oklahoma.
The outcome of this discussion is vital as it may affect the Kiowa Tribe as a whole along with the programs. However, a quorum of 150 registered Kiowa Members must be obtained before the meeting can begin. The doors will open at 7:30 AM with registration at 8:30 AM. Everyone is encouraged to attend and be part of this conversation.